Founding Partners
---
Edwin Soeryadjaya
EDWIN SOERYADJAYA started his career at Astra International, one of Indonesia's largest diversified conglomerates founded by his father. He left as Vice President Director in 1993 and co-founded Saratoga Investama Sedaya, an investment company focusing on natural resources, infrastructure and consumer products & services.
Edwin graduated from the University of Southern California with a Bachelor of Business Administration in 1974 and is married with 3 children. He was awarded Ernst & Young Entrepreneur of the Year in 2010. A long-time proponent of education, he remains active in the community through his roles as Co-Founder of the William Soeryadjaya Foundation and is on the Board of Trustees of the Ora Et Labora Foundation.
Edwin is currently President Commissioner of PT Saratoga Investama Sedaya Tbk, PT Adaro Energy Tbk, PT Tower Bersama Infrastructure Tbk, PT Mitra Pinasthika Mustika Tbk, PT Lintas Marga Sedaya, PT Tri Wahana Universal and PT Medco Power Indonesia. He also serves as Vice President Commissioner of PT Merdeka Copper Gold Tbk and Chairman of Interra Resources Limited and Seroja Investments Limited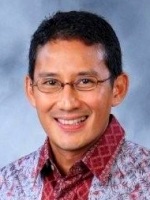 Sandiaga S. Uno
As a prominent young entrepreneur, Sandi is active in the Indonesian business community promoting entrepreneurships and empowering the Indonesian Micro, Small and Medium Enterprises. He was elected as a member of Indonesian Economic Council (Komite Ekonomi Nasional) in June 2010, after serving the Indonesian Chamber of Commerce and Industry (KADIN) for the Micro, Small and Medium Enterprises and Cooperatives sector from 2004 to 2010. He was the Chairman of Indonesian Young Entrepreneurs Association (HIPMI) from 2005 to 2008.
Sandi was awarded the 2008 Indonesian Entrepreneur of the Year by Enterprise Asia and a member of Asia Society's Asia 21 fellows, class of 2008.
He currently holds directorships at PT Adaro Energy Tbk, Interra Resources Ltd., PT Mitra Global Telekomunikasi Indonesia, and PT Lintas Marga Sedaya. He also a comissioner of PT Tower Bersama Infrastruktur Tbk.
Sandi graduated Summa Cum Laude with Bachelor of Business Administration from Wichita State University in 1990 and obtained his Masters of Business Administration from George Washington University in 1992. His hobby is basketball and he was the team manager for the Indonesian Women National Basketball team for the 2005 Southeast Asia Games in Manila. He is married with three children.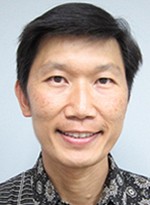 Kay Mock
Kay Mock was with the Government of Singapore Investment Corporation (GIC) from 1989 to 2006. Prior to his departure, he was a Senior Vice President in charge of GIC's private equity investments in Japan, Korea and Indonesia.
Kay has invested over USD 1 billion in a broad spectrum of industries, including: banking, telecoms, insurance, manufacturing, retail, specialty retail, aircraft leasing, and fund management.
On behalf of GIC, Kay had also served as a Director on the boards of various portfolio companies, including:
- Singapore Aircraft Leasing Enterprise (leasing)
- Himart (Korean electronics retailer)
- Landmark (Korean investment trust)
- Philippines Seven Eleven (retailing)
- SPI (Business Process Outsourcing in the Philippines)
Kay graduated with a Bachelor of Social Science (Honors) in Economics from the National University of Singapore. He received his CFA certification in 1992. Kay is married with two children.