Operating Partners
---
Jerry Ngo
Jerry has been PT Saratoga Investama Sedaya Tbk's Chief Financial Officer since 2012. Prior to this, he served as an Executive Director of Institutional Banking at PT ANZ Bank Indonesia from 2010 until 2012.

He previously held a number of senior positions at Standard Chartered Bank in Singapore, London and Vietnam, which he joined in 2000. Jerry was a Regional Product Manager at Citibank in South Korea, Singapore and the Philippines from 1993 to 2000.

He graduated with a Bachelor of Science degree in medical technology from Velez College, Cebu City. He also holds a Master of Management degree from the University of San Jose-Recoletos and a Master of Business Administration degree from the Booth School of Business, University of Chicago.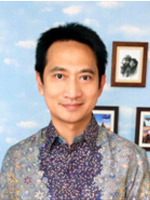 Andi Esfandiari
Andi has been with PT Saratoga Investama Sedaya Tbk as its Portfolio Director since 2014. Currently, he is also serving as the Commissioner of PT Mitra Pinasthika Mustika Finance, President Commissioner of PT Asuransi Mitra Pelindung Mustika, President Commissioner of PT Agro Maju Raya and Director of PT Bareika Capital.
He has extensive investment and operational expertise with previous experiences in deal origination, execution, portfolio monitoring, Initial Public Offering management, internal audit, and strategic planning. He previously served as the Vice President Director (2008-2010), Chief Financial Officer (2006-2010) and Senior Manager/ VP (2001-2006) of PT Austindo Nusantara Jaya Agri. Prior to that, he was an Associate at Olympus Capital Holdings Asia (1998-2001), Senior Analyst at PT Peregrine Securities (1997-1998) and Management Associate of Citibank N.A. (1996-1997).
He graduated with a Bachelor of Engineering degree from University of Indonesia. He also holds a Master of Business Administration degree in Finance from Case Western Reserve University.
Budianto Purwahjo
Budianto started his career at Astra Graphia, a subsidiary of PT Astra International Tbk, in 1989.

He was the Director of Business Development in Ariawest International, responsible for exploring and developing value added services for the costumers and new businesses complementing to Aria West's services and products. He was also responsible in maintaining strong relationship with regulators as well as telecommunication operators.

He currently holds directorships at PT Tower Bersama Infrastruktur Tbk and PT Telenet Internusa.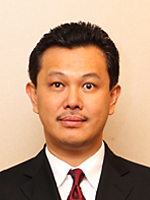 Herman Setyabudi
Prior to joining Saratoga in September 2008, Herman was the Managing Director of PT Finansia Multi Finance. Having joined Finansia in 1997, Herman was responsible for restructuring the company during the Asian Financial Crisis and ensuring a period of tremendous growth. Under his leadership and in the period 2002 to 2008, Finansia's turnover increased from USD 5 million to USD 120 million, and staff strength increased from 190 to 4,000.

He is currently the President Director of PT Tower Bersama Infrastruktur Tbk.
Yuliantina Wangsawiguna
Yuliantina started her career at Arthur Andersen (now Ernst & Young) in 1997. She joined Saratoga in 2005 where she was involved in various projects, involving acquisition, bank financing, IPO and divestment. She is currently the Chief Financial Officer of PT Mitra Investindo Tbk.

Yuliantina graduated from the University of Parahyangan (Bandung, Indonesia) with a Bachelor's degree in Economy.