PT ADARO ENERGY TBK.
PT ADARO ENERGY TBK. (ADRO.JK) is the second largest coal producer in Indonesia with integrated coal mining, processing and logistics operation, making it one of the lowest cost coal producers in the world. It was listed on the Indonesian Stock Exchange on July 16, 2008.
Adaro's coal, globally trademarked as Envirocoal™, has exceptionally low sulphur (0.1%), low ash (1.5%) and low levels of nitrogen oxide. Due to its favorable environmental characteristics, Envirocoal™ is greatly sought after by power plants for blending purposes.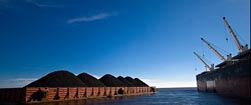 ---